Public Program
[ASJC Talk & Lecture] Simon Fujiwara
Fri. 7 April 2023, 4 pm
Art Hall
[ASJC Talk & Lecture] Simon Fujiwara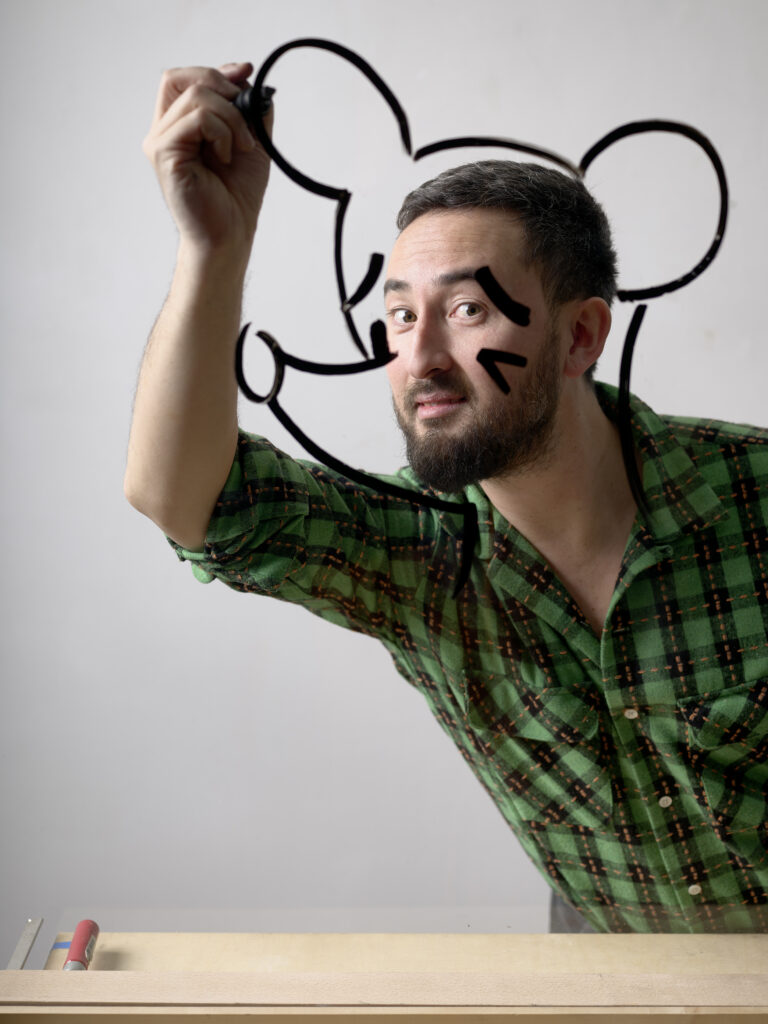 Art Sonje Center is hosting Simon Fujiwara's artist talk on 7th of April. By exploring notions of identity construction, Simon Fujiwara delves into the contradictions of inherited racial, national, historical, and cultural values. His works hold a distorted mirror to our contemporary society possessed with spectacle, fantasy and authenticity, through a wide range of formal strategies, the artist utilizes the tools of our hyper-mediated world-from advertising, museum-making, to even a theme park design.
This artist talk event will be an opportunity for the artist to introduce his new Who the Bær series to local audiences. Developed during the pandemic lockdown, 'Who' is the artists' newly created cartoon bear. With only a few recognizable features such as their white fur, golden heart and impossibly long tongue, Who the Bær seemingly has not identity – no race, gender or sexuality. Just an image lost in a world of images, Who the Bær is a philosophical question in the body of a lovable cartoon character that asks us 'what is an authentic self?'. An increasingly complex question in our image obsessed, technological age.

Since the solo exhibition at Prada Foundation, Milan in 2021 which unveiled Who the Bær series for the first time, Who the bær has travelled to major institutions and galleries in Europe and Asia, including Kunstinstituut Melly, Rotterdam; Esther Schipper, Berlin; and Prada Aoyama, Tokyo, in various forms of sculptures, paintings, installations, stop frame animation and children's books.
---
About the Artist
Simon Fujiwara
Contemporary artist born in 1982 and currently residing in Berlin. Held solo exhibitions in numerous major institutions on the globe, including Gallery Hyundai (2023); Prada Aoyama, Tokyo (2022-2023); Esther Schipper, Berlin (2022); Kunstinstituut Melly, Rotterdam (2021); Prada Foundation, Milan (2021); Blaffer Art Museum, Dallas (2020-2021); Lafayette Anticipations – Fondation d'entreprise Galeries Lafayette, Paris (2018); Kunsthaus Bregenz, Bregenz (2018). The artist's works are represented in the collections of Museum of Modern Art, New York; the Solomon R. Guggenheim Museum, New York; Tate, London; Centre Pompidou, Paris; The Prada Foundation, Milan; The Prada Foundation, Milan; Hamburger Kunsthalle, Hamburg; Sammlung Verbund, Vienna; Sharjah Art Foundation, Sharjah; and the Museum für Moderne Kunst, Frankfurt am Main.
Seewon Hyun
Seewon Hyun is director of Audio Visual Pavilion (Lab) and an independent curator. As a curator Hyun curated exhibitions including A Snowflake at Kukje Gallery, Museum Route (2016) at the National Museum of Modern and Contemporary Art in Gwacheon; Human Scale (co-curator, 2014) at Ilmin Museum of Art in Seoul; and Chunsoo Mart 2nd Floor (2011 and 2012) at National Theater Company of Korea and Festival Bom in Seoul. Hyun has also published several books on curating and contemporary art and images, such as 1:1 Diagram (2018), Speaking with Empty Hands (2017), Object Excursion (2014), and Extremes of Design (2010). She lives in Seoul.
Date/Time
Fri. 7 April 2023, 4 pm
etc
EN-KR translation will be provided on-site