Public Program
[ASJC Research] Online and Offline Gathering OpenSea_Current Sea_Deep Sea
Thu. June 22, 2023, 4pm-6pm
Online+Offline(Art Hall)
[ASJC Research] Online and Offline Gathering OpenSea_Current Sea_Deep Sea
[ASJC Research] is a platform dedicated to exploring urgent questions arising in contemporary visual art production, fostering a space for comprehensive discussions and engaging debates. The 2023 ASJC Research initiative seeks to produce fresh discourse surrounding the intersection of community art and decentralized technology.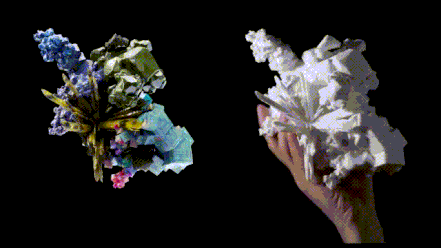 OpenSea_Current Sea_Deep Sea departs from Michael Joo and Danil Krivoruchko's groundbreaking generative art project "OG:CR_Organic Growth Crystal Reef (https://ogcrystals.com)".
OG:CR is an extraordinary art project that showcases the power of creativity, technology and collaboration. Comprising 10,301 unique 3D crystals, the project explores the intersection between the conventional and NFT art worlds. OG:CR transforms static NFTs into a flourishing digital reefscape, where each uniquely individual piece of digital art grows every time it is re-sold during the collection Growth Period (Oct 14~Dec 31 2021). 6,955 unique wallets had participated in the growing process through more than 33k qualified blockchain transactions.
Through OGCR, we challenge contemporary perception of crypto technology as solely a subject of speculation by delving into the untapped potential inherent in the decentalized vision of blockchain technology. Can decentralized technology generate new forms of community and open up a new location of art? Will the decentralized vision of community bring about new forms of community art and a new field of research?
At the heart of this event lies the groundbreaking collaboration between artist Michael Joo and MEGA lab (https://themegalab.org). This innovative partnership centers on the transplantation of virtual reefs into the ocean, allowing for the observation of their real-world impact on the oceanic environment. This project demonstrates an example of interdisciplinary efforts between art and science, giving rise to a new research field. We would like to explore and discuss the synergies between MEGA lab's objectives and Michael Joo's artistic vision, as well as investigating how different communities can learn from and enrich one another. By examining these connections, we aim to develop a feedback system that fosters knowledge production beyond conventional boundaries.
We invite you to join us in this exciting journey, as we delve into the world of crypto communities and their potential to transform not only the realms of art and science but also the way we perceive and interact with our communities and environment. The gathering will feature presentations, panel discussions and interactive sessions led by distinguished experts in the fields of generative art, technology, environmental science, ocean conservation and data science. We will discuss broader implications for the future of art, technology, and our planet.
 
---

About the Speakers
Michael Joo
Sculptor, Multi-media Artist Michael Joo (ASomatica) is a contemporary artist based in Brooklyn, NY. His work has been widely exhibited at galleries, museums and international events such as Kukje Gallery, the Whitney Museum of American Art, and Venice Biennale. He has received numerous art awards and his work is in the collections of the Guggenheim Museum, LACMA, and Moderna Museet, among others. Michael recently exhibited at K11 Art Foundation in Hong Kong, and is currently showing in the Hawaii Triennial 2022 in Honolulu.

"My art practice has always revolved around the liminal and spaces between. From creating a geodesic halo of surveillance cameras around a 3rd century Gandhara Buddha, to collaborating with local Korean children to make a monument at the threshold of the Korean DMZ, I have an ongoing engagement with access and collectivity.
When I first met with Snark.Art nearly two years ago, I was taken by the potential for blockchain technology to speak to and cultivate communities. They'd been working for some time with geologic and crystalline forms, and the parallels between the inaccessible transformative space and lives of things underground, to the intangible transformative space of things virtual and digital were inspiring to me.
In developing the concept and work itself, I was introduced to Danil whose motion graphics and programming vision I admired and whose experience with both NFTs and community building resonated with me. My own ongoing work with fossils of ancient marine life prompted thinking of our project's potential evolution as a collective similar to that of a reef: coral polyps crystallized into calcium carbonate exoskeletons that speak to both objects and sites of potential. I am thrilled and excited by both our collaborative efforts and the 'seed' we are releasing."
Danil Krivoruchko
Danil Krivoruchko, aka Myshli, is an NYC-based creative director and digital artist whose clients include Apple, Nike, Intel, Boeing, and more. His work has been featured in many motion design publications and won a variety of festival awards. The first NFT collection created by Danil, in collaboration with Snark.Art, "One Thousand ksoids" is currently held by many prominent NFT collectors.

"Creating projects combining data visualization and generative art is my ongoing passion. I've already completed quite a few projects in this field (including one for the NY Mathematics Museum and mypersonal NFT art based on data from the Ethereum blockchain). Thus, when I was introduced to Michael and he outlined the concept, I started working on the project immediately. I tried to adapt the idea of crystal usage and their growth to the digital world and connect it to using blockchain data. Before this, hardly anybody had tried to create a dynamic NFT project connected to consumers' data. And no one has ever tried to create anything of such ambition and technical complexity. To achieve this, we had to do a lot of research and development and make a custom server code that would connect the blockchain to the 3D-crystal generation and rendering. It also required a huge amount of hardware power to handle the rendering en-mass. But this is the price you pay when you innovate and try to push the boundaries. I'm very excited about the result and proud of the team's achievement."
Mega Lab
John Burns
Secretary of the MEGA Lab and Associate Professor at the University of Hawai'i at Hilo. Prof. Burns specializes in coral reef ecology and data science. His research uses novel modeling techniques to characterize some of the most resilient reefs on the planet. His work has been highlighted by Rolex, National Geographic, Forbes, and Surfer Magazine. He has also contributed to award-winning documentaries such as Chasing Coral, Reefs at Risk, and Island Earth.
Yung Bin Kwak
Yung Bin Kwak is an art critic, Visiting Professor at Yonsei University, with PhD (diss. The Origin of Korean Trauerspiel) from the University of Iowa. Winner of the 1st SeMA-Hana Art Criticism Award in 2015, he served as a juror at 2016 EXiS (Experimental Film and Video Festival in Seoul), the SongEun Art Award as well as the POSCO Art Museum 'The Great Artist' competition in 2017. Publications include 'Melancholic Repetition Compulsion of Mourning and Mnemosyne of Disjecta Membra: May 18, Amnesty and Aby Warburg,' 'Ancient Futures of <The More, the Better>: Obsolete New Media's 'Parallax Contemporaneity', 'The Compulsion to Repeat History as Per/sona: Im Heungsoon and Audio-Visual Image', along with The Waves and Garage Sale, What Do Museums Connect?, Human-Media-Culture in the Age of Hyperconnectivity, Reading Blade Runner in Depth and Dead-End of Image.
Sey Min
Sey Min, an artist who is specialized in the visualization of data, attempts to understand ourselves and our society from diverse perspectives, particularly through data. Her works are an effort to recognize the aspects of our existence in a technology-driven environment by way of several visualization projects: the visualization of architecture that changes its form depending on the amount of energy consumption, the visualization of the public's awareness of certain subjects based on publicly shared data, and the visualization of the environment of artificial intelligence (obtained by mechanical training) through which we reflect ourselves. Min's works have been introduced in TED global 2012, TED 2011, Lift Asia, and the National Museum of Modern and Contemporary Art, Korea.
Sey Min launched Praxis.ai(www.prxs.ai) a new kind of AI-powered creative tool for designers, artists and other creators. No engineering background required. Praxis will help you understand ML as you create and currently, she is currently serving as the Director of Gyeonggi Contents Promotion Agency.
Shin Hyunwoo
Shin Hyunwoo is a cultural studies scholar whose field of interest spans political economy of media and information technology such as artificial intelligence, blockchain, gaming, and digital platform. He co-authored Samure sujakpurigi, Keimŭi iron, Chayuroun kaeindŭrŭi yŏnhabŭl hyanghayŏ, and Wigiwa sŏngch'arŭi nyunomŏlsidae. Shin is an active cultural critic and a member of the editorial board of cultural studies quarterly Munwha/Kwahak. He teaches digital cultural studies and art&technology at Seoul National University of Science and Technology and Korea National University of Arts.

*본 프로그램은 2023년 한국문화예술위원회 예술과기술융합지원사업의 지원을 받아 제작되었습니다.
This project was published with the support of "2023 Art and Technology Convergence Support Grant Program"
Date/Time
Thu. June 22, 2023, 4pm-6pm
Venue
Online+Offline(Art Hall)
Speaker
Michael Joo, Danil Krivoruchko, Mega Lab, Yung Bin Kwak, Sey Min, Shin Hyunwoo