Performance
The Festival of Skin
2023. 4. 10. / 5.18.
Art Sonje Center
The Festival of Skin
This two-night festival features dance, tarot readings, and music performances. Why the name? Because the skin is the guardian of the body and we would like to dedicate a festival to celebrate sensation, perception, and feelings as the markers of togetherness and community building. Performance is the fundamental language of expressing yourself without using words. We believe that having an opportunity to experience questions that matter to all of us—gender questions, future questions, joy and happiness questions—through performance helps us to understand not only what we think but also how we can feel better.
This two-night festival was also conceived as a way of gaining insight into the works present in both exhibitions, Living in Joy and Heidi Bucher: Spaces are shells, are skins. The participating artists in The Festival of Skin, Ahn Eun-Me Company, Re#sister Korea, Rondi Park and Claire めぐみ (Megumi) will laud the collective energies through several performance.
Each night is inspired by two quotes from French poet Stéphane Mallarmé to define our two nights.
The First night, 'DREAMS (of Skin) "Dreams have as much influence on us as actions."

Date: 10 April 2023, Mon., 5 pm
Venue: The entire space of Art Sonje Center
Artist: Ahn Eun-Me Company
Ahn Eun-Me Company DANCING GRANDMOTHERS
Choreographer & Director: Eun-Me Ahn
Videography: Jiwoong Nam, Seunghwan Kim, Sang Hwa Lee, Tae Seok Lee
Video Designer: Tae Seok Lee

(left) Eun-Me Ahn(Ahn Eun-Me Company Art Director) Photo: Seok-Mu Yoon
(Middle, right) Ahn Eun-Me Company, Dancing Grandmothers, Photo Courtesy of Ahn Eun-me Company
On this evening, a special performance by choreographer Eun-Me Ahn takes place on every floor of the art center. In the performance, Dancing Grandmothers, which is inspired by the energy of Korean grandmothers, dancers from Ahn Eun-Me Company encourage these grandmothers to dance, drawing out their joyous potential and strong vitality. The vivid movements of these weathered grandmothers, all of whom have lived intensely and in their own unique ways throughout their lives, along with the simple and primitive rhythms of their bodies, are a record of time and space from the past. Indeed, the bodies of these grandmothers who remember much of Korea's modern history are further connected and expanded to the history of the grandmothers of the world, and their daughters, who are the next-generation's women.
Second night: RENEWAL (of skin) "Every soul is a melody which needs renewing."
Date: 18 May 2023, Thur., 5 pm
Venue: Art Sonje Center
Artist: Re#sister Korea, Rondi Park, Claire めぐみ
Re#sister Korea Impro Jam of Re#sister Korea
Performer: Mina Kim, Sujin Kim, Ru Kim, Jisoo Park, Younwon Sohn, Wonjung Shin, Dooho Yi

Re#sister Korea, ATM Festival, 2022, Photo Courtesy of Re#sister Korea
Re#sister Korea is a group of electronic luthiers and musicians all united by their interest in gender and sound. Can sound alter our perception of gender? Can it create a space of freedom? They will perform for us in a jam session, taking us on a sonic trip through the future of living together.
Rondi Park 'Beans of Life'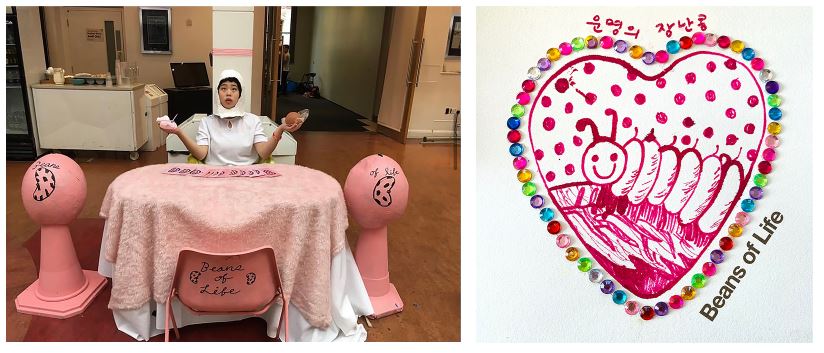 Rondi Park, Beans of Life, 2016, performance, Photo Courtesy of Rondi Park
Rondi Park is an artist also present in the exhibition Living in Joy. She is interested in the temporality of all things and has even developed her own tarot reading system. Ask whatever you want! Rondi Park describes your present, past, future, and even what is on the mind of someone close to you with her out-of-this-world insight. If you bring an open mind and a small "fee," you can see Beans of Life for yourself. Bring a picture of something you valued as a child, or the object itself as the "fee". The truer your memory about the object is, the higher the accuracy the fortune-telling becomes. Come join us!
Claire めぐみ 'Coal tears burn all types of cheek skin'

Claire めぐみ, Coal tears burn all types of cheek skin, 2023, performance, sound, installation, oil painting, rabbit skin glue and graphite on canvas, fabrics, lights, 19 minutes, Photo Courtesy of Claire めぐみ
Claire めぐみ (Megumi) is an artist and choreographer based in Basel, Switzerland who has come to Korea with the sole purpose of dancing for us. Surrounded by a fabric installation evoking a corner of a 4.5 tatami-size room, Claire めぐみ expresses movements with her body as if absorbed in a repetitive and compulsory activity. In this imaginary room where music she herself composed is played, she is inspired by our presence to elaborate on the question of joy. Can we indeed become friends in just one night? Yes, we can!
Date/Time
2023. 4. 10. / 5.18.
Curated by
Chus Martínez (Head of the Institute of Art Gender Nature, FHNW Academy of Arts and Design in Basel) with Heehyun Cho (Head of Exhibitions, Art Sonje Center)
Chus Martínez (Head of the Institute of Art Gender Nature, FHNW Academy of Arts and Design in Basel) with Heehyun Cho (Head of Exhibitions, Art Sonje Center)